Singapore Government Increases Additional Buyer's Stamp Duty Rates
On 26 April 2023, the Singapore Government announced increases to the Additional Buyer's Stamp Duty ("ABSD") rates that take effect from 27 April 2023. The measures follow the latest increase in ABSD rates in September 2022, and are expected to affect about 10% of residential property transactions.
In this update, we provide a summary of the key revisions to ABSD rates.
Background
The Singapore Government first introduced the ABSD in 2011 to cool down the property market and prevent excessive investment speculation. ABSD is a tax levied on top of the standard buyer's stamp duty ("BSD") and is applicable on acquisitions of residential property in Singapore by certain group of persons, such as foreign persons, Singaporean citizens and permanent residents purchasing their second or subsequent residential property.
Since its introduction, ABSD rates have been revised several times to reflect changes in market conditions and encourage a sustainable property market. Despite the moderating effect on the property market following the latest ABSD increase, the Singapore Government has observed renewed signs of property market acceleration in Q1 2023, with robust demand from both local and foreign investors and locals seeking owner-occupied homes. In this regard, the latest round of increase to the ABSD rates aims to proactively manage investment demand and prioritize residential properties for owner-occupation, thereby promoting a sustainable property market.
Key Changes to ABSD Rates
Increases in ABSD Rates
The following table summarizes the revisions to the ABSD rates, which take effect from 27 April 2023: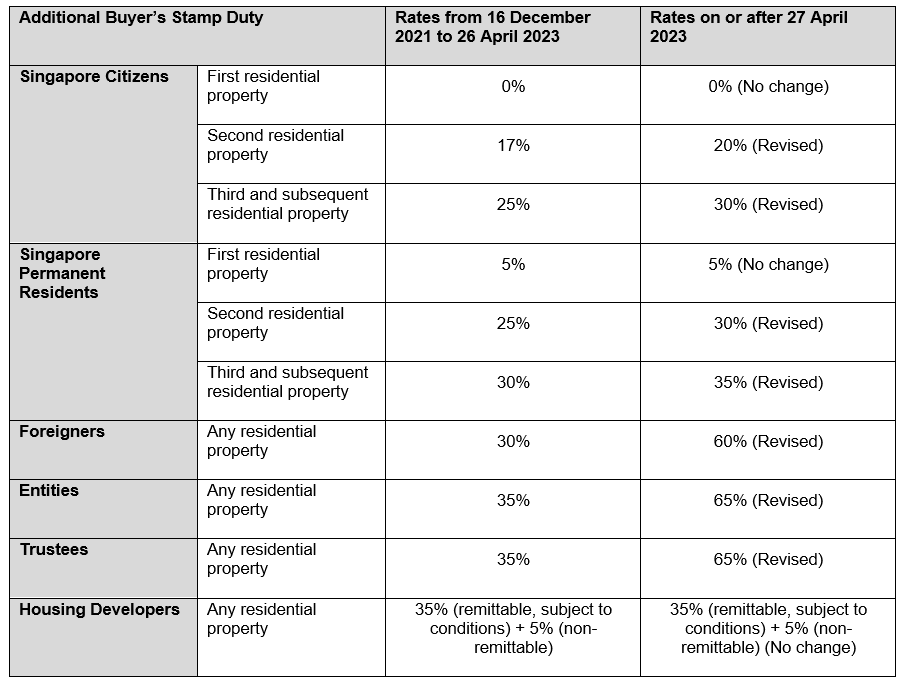 Implications on Additional Conveyancing Duty Rates
In this connection, the Additional Conveyancing Duty ("ACD") rates applicable to acquisitions of equity interests in property holding entities ("PHE"), which broadly represent the amount of BSD and ABSD payable on the residential property beneficially held by the PHE, will also increase from up to 46% to up to 71%.
Transitional Provisions
While the revised ABSD rates will apply to all residential properties acquired on or after 27 April 2023, the ABSD rates on or before 26 April 2023 will continue to apply to acquisitions that satisfy all of the following conditions:
1. The Option to Purchase ("OTP") was granted by sellers to potential buyers on or before 26 April 2023;
2. This OTP is exercised on or before 17 May 2023, or within the OTP validity period, whichever is earlier; and
3. This OTP has not been varied on or after 27 April 2023.
Comment
The latest increase to the ABSD rates is a proactive measure by the Singapore Government to promote a sustainable property market and prioritize owner-occupation of residential properties. The changes will affect about 10% of residential property transactions, and it is important for affected buyers and investors to take note of the revised rates and plan their property purchases accordingly.
For further inquiries regarding this alert, please contact:
Eugene Lim
Co-Founder and Principal
Eugene.Lim@TaxiseAsia.com
+65 6304 7989
Benedict Teow
Associate
Benedict.Teow@TaxiseAsia.com
+65 6304 7972
Joel Tan
Legal Trainee
Joel.Tan@TaxiseAsia.com
+65 6304 7972